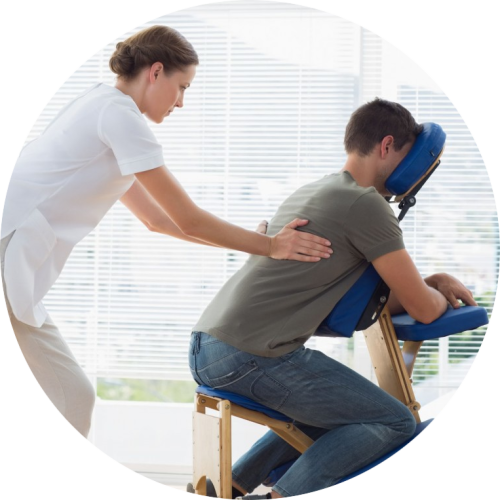 Online Chair massage course
Various problems can be prevented or remedied by regular chair massage, such as: RSI, carpal tunnel syndrome and general shoulder and neck discomfort. These issues often occur as a result of incorrect work postures or staying in the same work posture, or as a result of stress.
A lot of companies have discovered the benefits of chair massage and offer their employees the opportunity to enjoy it on a regular basis. It is inexpensive and improves employees' work ethic, productivity and loyalty.
You can offer a chair massage practically anywhere
Lots of people feel inhibited when it comes to having to undress, therefore a chair massage is much more convenient for them.
Private clients also benefit from chair massages, especially people who experience difficulties lying on their stomach or back due to pain or shortness of breath. Advantages for them are the affordability of a massage and that the masseur comes to their home if they wish.